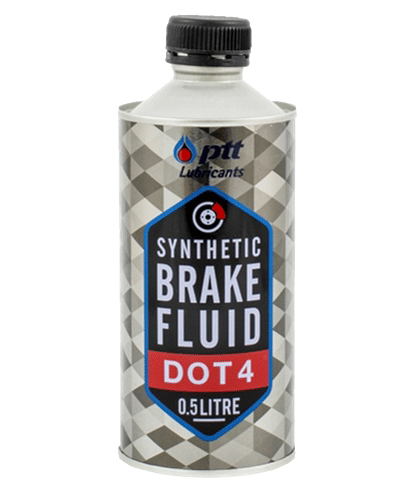 SYNTHETIC BRAKE FLUID DOT 4
A premium quality synthetic brake fluid exceeds DOT 4 standard, produced from Glycol Ethers technology, for high boiling point up to 270 °C to ensure high performance even in high temperature conditions and to prevent seal swelling and cession effectively
Product Details
APPLICATION
• Recommended for the hydraulic brake system both disc and drum brakes in passenger cars and commercial vehicle requiring DOT 4 fluid.
• It is also applicable to the clutch system.
• Recommend to change every 2 year.
KEY FEATURES
• High boiling point enabling heavy use with no worries.
• Good compatibility with rubber seal and other brake part.
• Gum forming prevention, thereby allowing the piston and the master brake cylinder to move smoothly.
STANDARDS
• FMVSS No. 116 DOT 4
• ISO 4925 class 4
• SAE J1704
• TIS 591-2011 : quality level 4