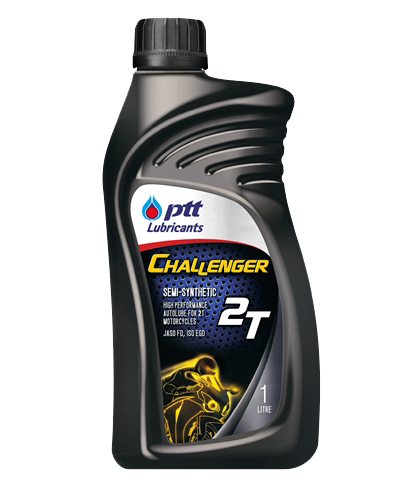 CHALLENGER 2T
Synthetic technology 2-stroke engine oil. Recommended for superior performance of modern 2-stroke motorcycles.
Product Details
APPLICATION
• Designed for high performance air and water-cooled of 2-stroke motorcycles.
• Recommended for high performance 2-stroke engine such as paramotor, chain saw and snow mobile.
• Suitable for both oil injection and premix system.
• Fuel/Oil ratio required following by the manufacturers' recommendations.
KEY FEATURES
• Maintain engine performance and horsepower.
• Excellent engine cleanliness.
• Prevent spark plug fouling and exhaust system blocking problems.
• Minimize exhaust smoke.
STANDARDS
• JASO FD
• API TC
• ISO EGD
RETAIL PRICE
• 125 THB (1 litre); 70 THB (0.5 litre)